We are delighted to announce that inHeritage have been appointed to the role of Public Engagement Coordinator for the Derbyshire Historic Building Trust's Wingfield Station Project.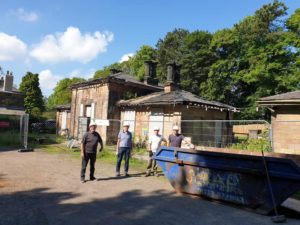 Bill Bevan and Rachel Costigan are sharing the role, which runs until November 2023. It includes working with volunteers, schools, colleges and other organisations, as well as overseeing public events and interpretation.
Wingfield Station is an early railway station, built in 1839-40 as one of a series of picturesque stations along the new North Midland Railway line. It is no longer in operation as a station, having been closed in 1967, but sits alongside the fully operational Midland Main Line between Derby and Leeds.
​The building fell into substantial disrepair under its private owner. In 2012, the Victorian Society declared the station as a 'maimed beauty deserving better' and one of the ten most important 'buildings at risk' in the country.  Local groups, in particular the South Wingfield Local History Group, campaigned for the building to be upgraded to Grade II*.  This was achieved in 2015.